Jewelry Website Design for
​​​​​​​Retailers & Vendors
An advanced cloud platform delivering the best web technology to the jewelry industry.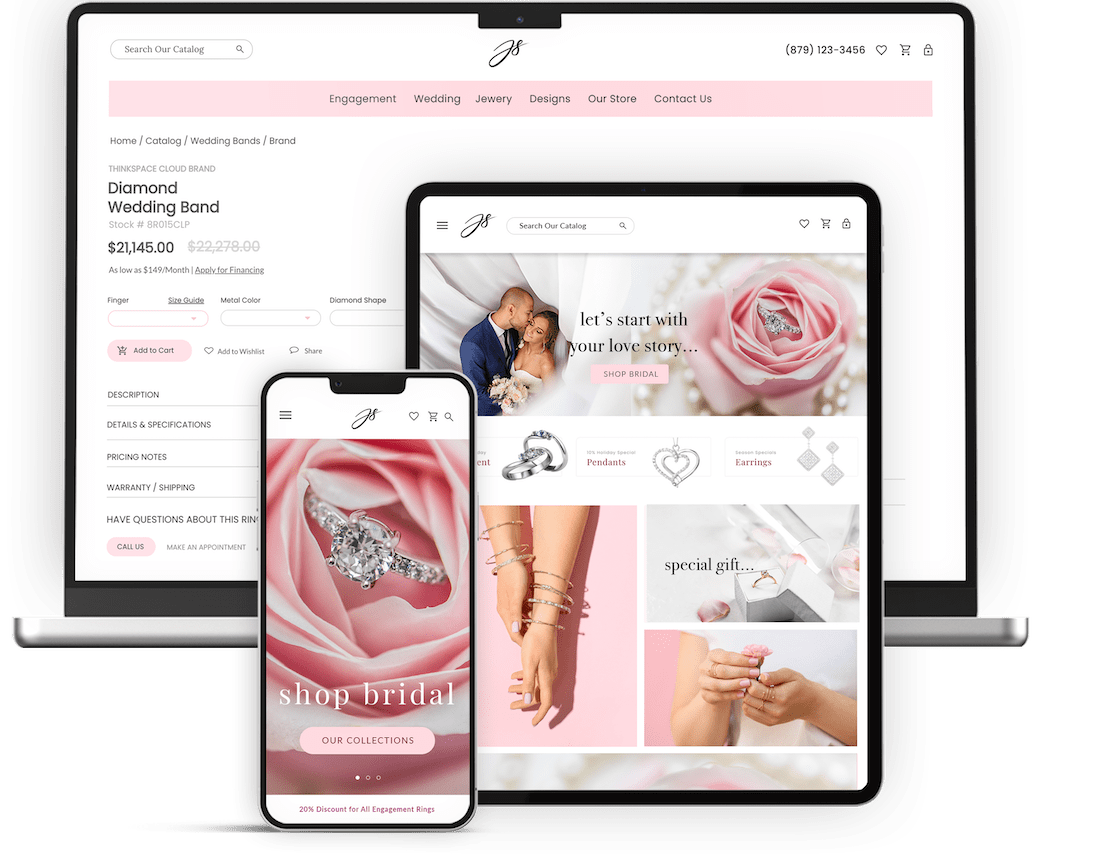 Why Choose Thinkspace?
Hundreds of retailers and vendors trust Thinkspace to help increase customer engagement and drive jewelry sales.
---
Thinkspace is a highly scalable jewelry-specific website platform for retailers and vendors of any size. Thinkspace empowers you to easily showcase your branded and custom jewelry, sell online, conduct internet marketing campaigns, engage with your customers and so much more.
Schedule a Demo
Thank you. Your message has been sent!
State-of-the-Art Website Technology
Thinkspace's platform functionality is constantly being developed as we listen to and respond to our clients' needs. When our clients make suggestions that benefit all, we build the new features into the platform at no charge to anyone. All of our jewelry specific features have been built using feedback from our clients. Some examples of these requests and suggestions include...

Spectacular Website Design
Our website design options have been created for any budget and business size, from robustly simple themes, launched in less than a month, to highly custom complex websites, which may be built in tandem with your marketing firm.
Our seasoned creative department actively maintain an ever-growing and constantly evolving library of website design themes, bundles, features and resources.
Truly Immersive Catalog
Bring your jewelry products to life
Our innovative technology offers an immersive and interactive shopping experience, enabling customers to easily browse through your comprehensive selection of jewelry and remain on your site longer while
they make their perfect purchase
check_circle_outline360°Web Spinners
check_circle_outlineBranded Video Banners
check_circle_outlineAnimated Jewelry Ads
check_circle_outlineVideo Animations
check_circle_outlineHigh-Res Images
Brand Powered
We work with the entire jewelry industry to make sure your online store is stocked with the products that matter to you. With over 600 brands and manufacturers available, and over 300,000 products and counting - from loose diamonds and bridal, to fashion and watches - we've got you covered.
Dedicated Support
Our support staff is a dedicated extension of your IT team and is just an arm's reach away. With unlimited hosting, cutting-edge infrastructure, industry-leading security, and a support staff at hand, we are ready to answer your questions. Get the answers you need from our knowledgeable and reliable team.
Integrating with
respected companies...

Customer loyalty is the best business strategy
We are dedicated to delivering each customer with the most modern, adaptive, and supportive web solutions by continuously enhancing our technology and offering unwavering support
local_police
Qualified Professionals
Providing your business with expert and knowledgeable solutions is our daily measure of success
diversity_1
Cooperative Onboarding
Ensuring that your website and apps meet your expectations and deliver your desired results, from sign-up to launch
support_agent
Dedicated Support
Meeting your questions and needs with directed solutions is essential to ensure the success of your website
volunteer_activism
Vendor Relationships
Committing to our relationships provides you with brand media and detailed product data promptly
school
Versatile Process
Adapting easily to changing tasks, unpredictable possibilities, or new requests is a natural process.
construction
Industry Experts
Mastering product, platform and website expertise is crucial for building a thriving jewelry website
Thinkspace was incredibly efficient and went above and beyond to make us happy with our website. They were very patient, extremely knowledgeable and made great suggestions for the layout and design. I cannot recommend the entire Thinkspace team enough!
- Kelley German, Morton & Rudolph Jewelers